What are Milestones?
Milestones set out recommended tasks and actions to guide you on your mentoring journey, making it easy for you to track your progress and provides more structure to your mentoring experience.
Be proud of your achievements: Once you complete all the tasks, you can add a badge to your LinkedIn profile to recognise that you are a Certified Mentorloop Mentor or Mentee.
Where can I see Milestones?
Log into Mentorloop and navigate to your program dashboard to view your current milestone.

Once it's done, mark as complete to progress onto the next task.

'View all milestones' to explore the full list.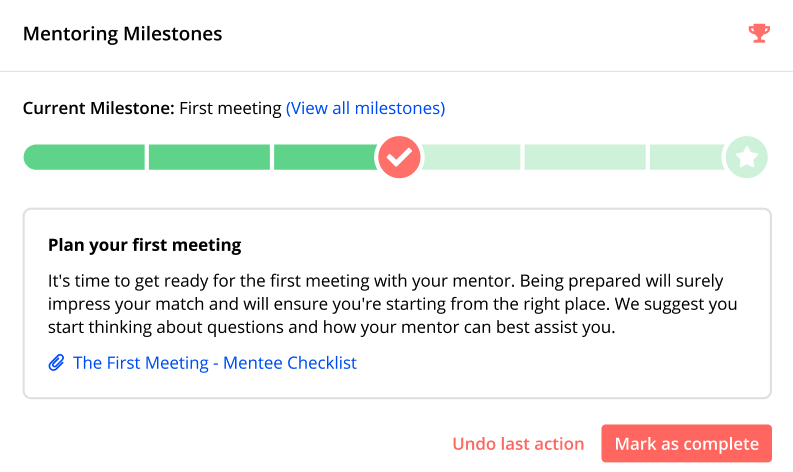 Who can see my milestone progression?
The program coordinator can view which milestone you're on and can see when a task has been completed on a specific milestone. Your mentoring partner cannot access your milestone information.
Do mentors and mentees get the same milestones?
All mentors and mentees will see the same five milestone stages, but the tasks within the milestones will differ depending on whether they are a mentor or mentee.
What are the milestones?
Getting started - Learn about good mentoring and how to use Mentorloop.

Matching - Get to know your mentoring partner and set expectations.

First Meeting - Meet with your mentoring partner and start the journey.

Grow Together - Complete and expand on goals together.

Levelling Up - Get more out of mentoring with Mentorloop.
What kind of tasks will I be asked to complete as part of these milestones?
There will be recommended reading to familiarise you with mentoring.

Making your first match and setting goals.

Planning and reviewing your first meeting.

Summarising meetings and planning your recurring meetings.

Evaluating progress and providing feedback to your match.

Looking at the idea of additional mentoring matches
How do I progress onto the next milestone?
You can mark tasks as complete at any time. There are also some tasks which will automatically be completed by an action.
What happens if I don't complete a milestone?
The next task will not appear until the previous one has been marked as complete.
What if I've already completed a milestone before it appears on my dashboard?
Our system will assign milestones based on where you are on your mentoring journey. You are empowered to mark each milestone as complete once it's done. If you have already completed it, you can mark it as complete immediately and progress onto the next stage.
Is there a time limit on each task?
No, you can complete tasks at a pace that suits you.
How do I add my badge to LinkedIn?

Once all the milestones have been achieved, the Add to LinkedIn option will be available. Simply click on the badge where you will be taken to your LinkedIn profile (sign in if you aren't automatically logged in) and then you have the ability to add the badge certification. Fill in the following details:
Name - Certified Mentorloop Mentor/Mentee
Issuing organisation - Mentorloop
The date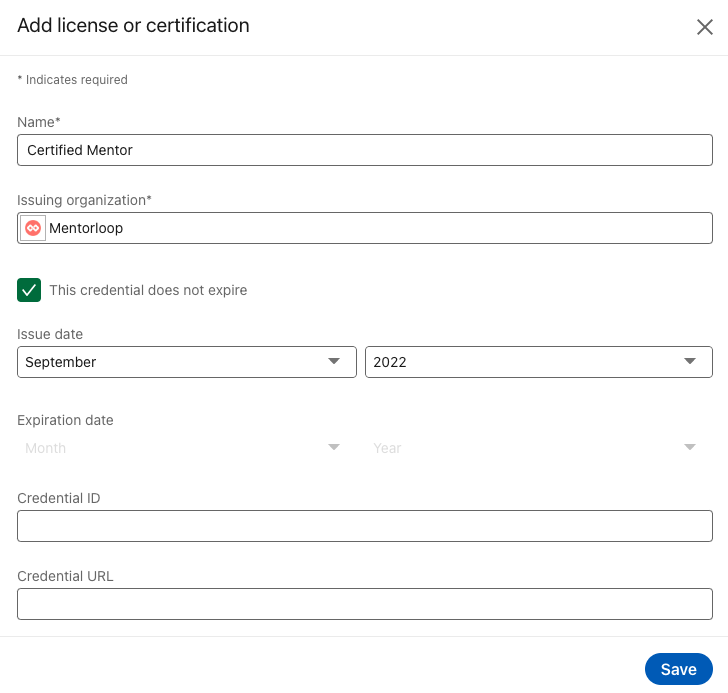 When you check your LinkedIn profile, you'll be able to view the badge within Licenses & certifications