Loop-based Milestones 🚏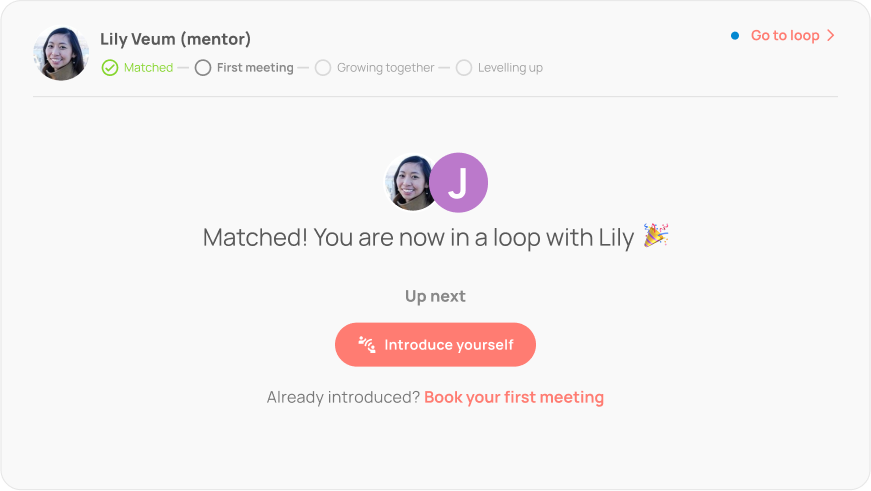 Mentorloop Milestones are a series of stages that aim to help you move along in your mentoring relationships, or what we like to call 'Loops'. If you're in a program that is open to creating multiple connections, Mentorloop ensures that each relationship is tracked separately, providing clarity on what your next steps should be for each respective Loop.
As you tick off tasks and interact with your mentoring partner/s, your progress will be reflected on your milestones. And if you're ever unsure of what the next steps are, don't worry! There are tooltips available within each Loop card to guide you along the way.
Goals 🎯
Setting goals is a crucial part of any mentoring relationship, benefiting both the mentor and mentee by giving them something to strive for and guiding mentoring sessions. The Goals section on your dashboard gives you greater control and oversight over your goals by allowing you to document the goals you want to achieve and set the tasks you need to complete to get there.
You don't have to tackle this alone either! You can choose to share it with your mentor or mentee for added support from an accountability buddy - your mentoring partner!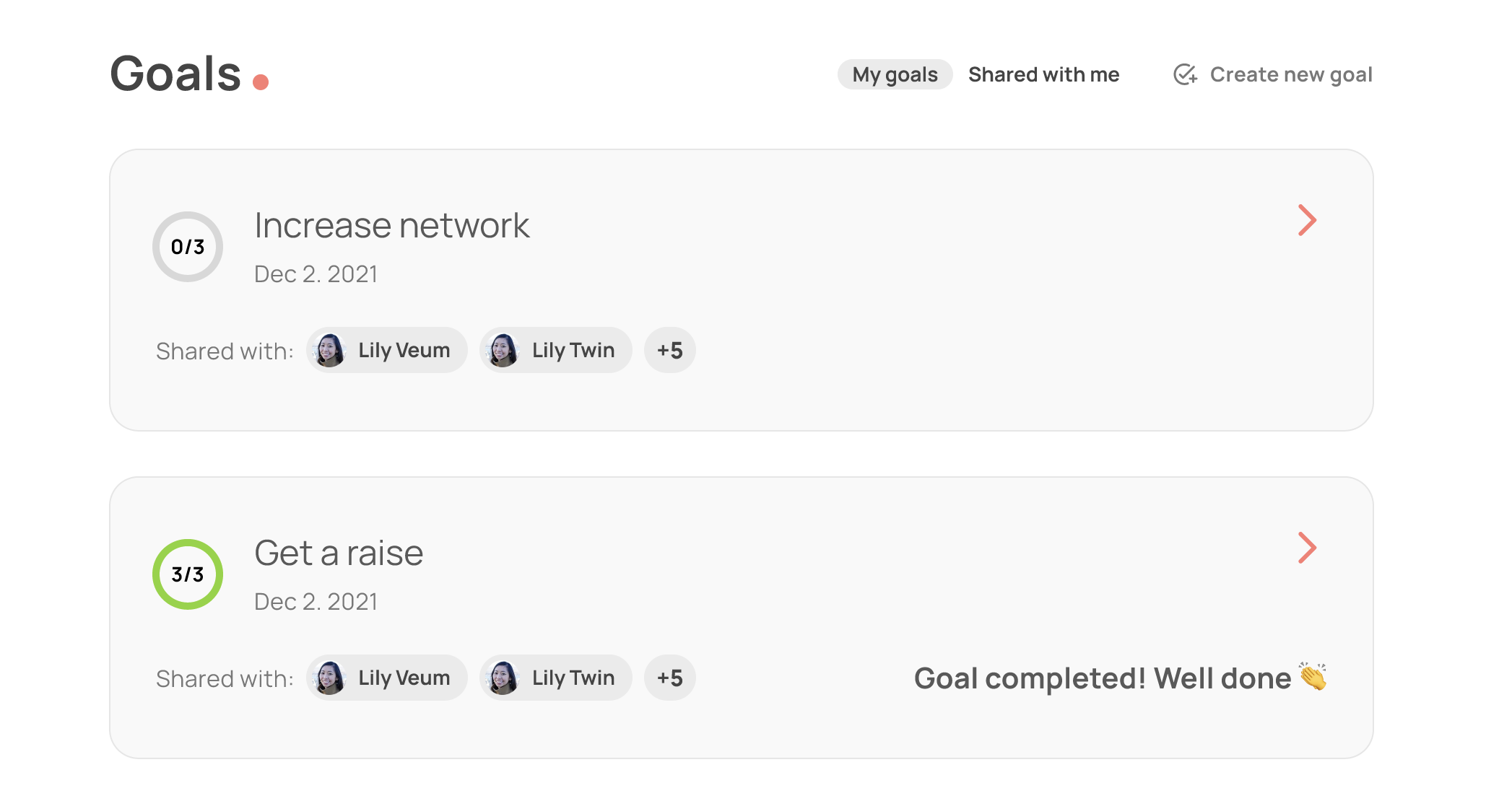 Set incremental challenges to achieve your goals
Recommended Reading 📚
Do you find yourself searching for new topics to discuss and wanting to expand your knowledge? Look no further than the Recommended Reading section! Depending on your chosen mentoring role, Mentorloop and your Program Coordinator have carefully selected content to keep you motivated and informed.
Your program coordinators might also include additional reading materials that are more relevant to your specific mentoring program or add more content as they see fit. For instance, they may suggest recommended readings on the topic of Women in Leadership or Psychological Safety in the Workplace and add some topical content as they come up. So be sure to check every now and again so you don't miss anything.
Help Hub 💡
At Mentorloop, not only do we want to make mentoring connections more accessible for all - we also want to make it better and more seamless for everyone!
So, should you ever need help navigating the platform, Mentorloop's Help Hub is here for you. And if you're looking for tips to enhance your mentoring relationships, the Academy section has got you covered.

Highlights ❤️
Whatever journey you're on, you're never alone. However, it can sometimes feel that way.
Well, that just won't do for us at Mentorloop. We made sure you feel part of a vibrant and motivated mentoring community.
Your Highlights will show you how your fellow participants are going in their own mentoring journeys so you can draw some motivation from each other and celebrate wins big and small as a community.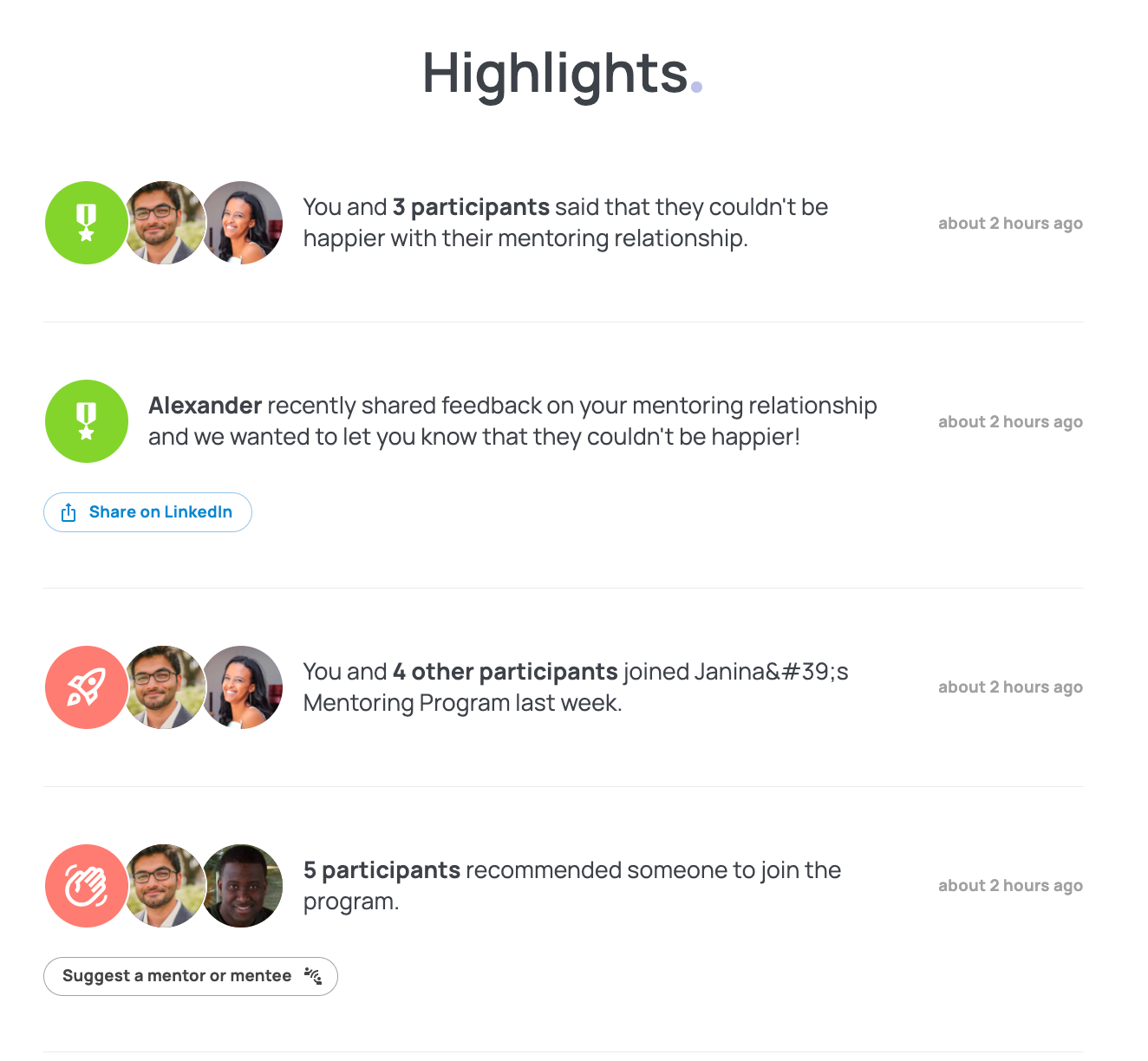 VIDEO: How to Use Mentorloop