What Are Milestones?
Milestones are a set of automated checkpoints that are achieved based on a participants' point in their mentoring relationships. Milestones make it easy for participants to track their progress and allow them to enjoy a more structured mentoring experience.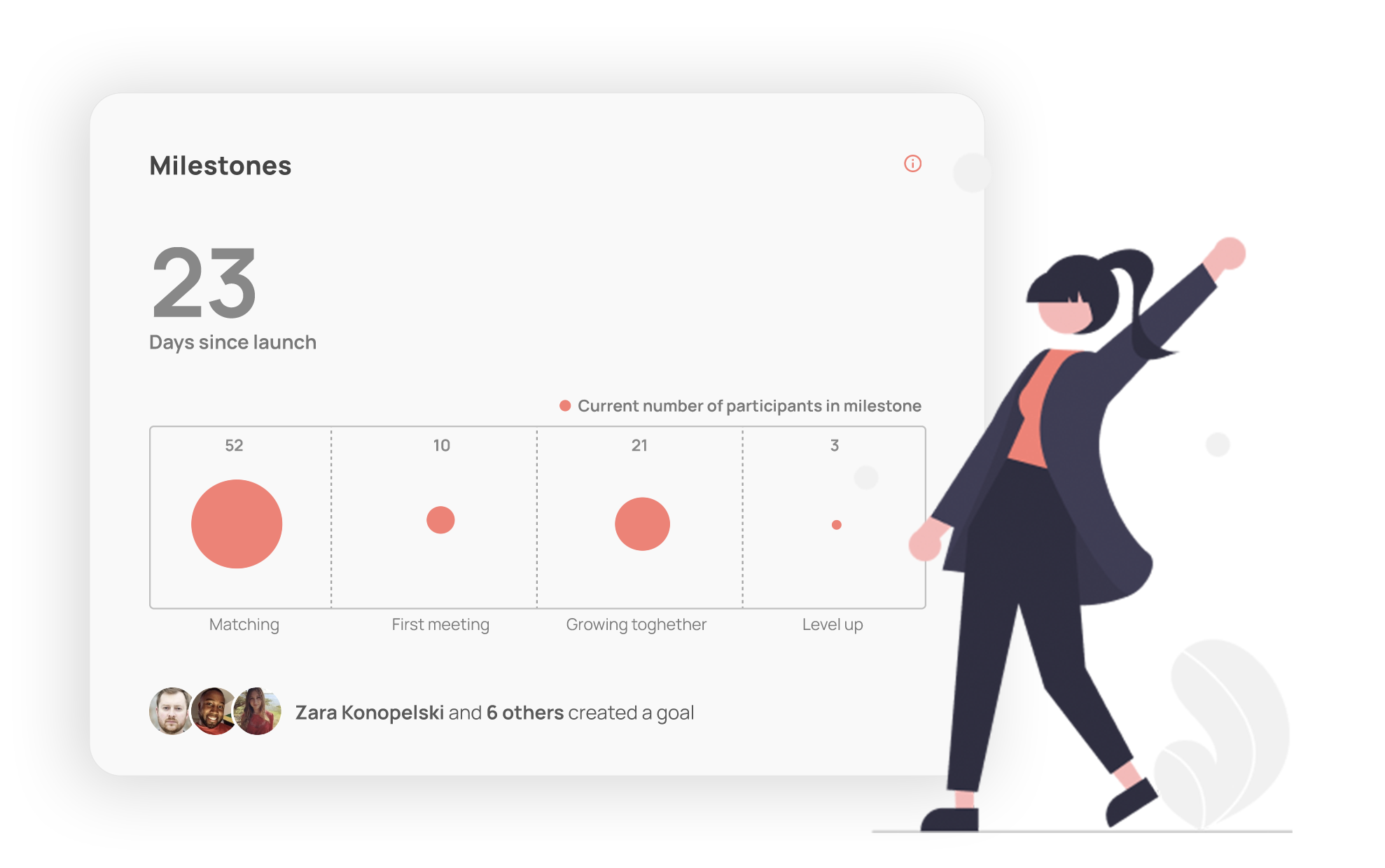 Where can I see Milestones?
Log into Mentorloop and navigate to your Program Coordinator Dashboard

Scroll down to view the number of your participants at each milestone stage.
What are the milestones?
Getting started - Learn about good mentoring and how to use Mentorloop.

Matching - Get to know their mentoring partner and set expectations.

First Meeting - Meet with their mentoring partner and start the journey.

Grow Together - Complete and expand on goals together.

Levelling Up - Get more out of mentoring with Mentorloop.
How can Milestones be achieved throughout a participant's mentoring relationship?
Milestones are loop-based, and can be achieved through:
Getting matched to their mentoring partner

Arranging their first meeting

Building momentum after the first mentoring meeting
Sharing positive sentiments about each other
How do they progress onto the next milestone?
Progressing through milestones is done automatically and based on the active interactions that participants have with their mentoring partners within the platform.
Participants will be at different milestones based on their different relationships.
Is there a time limit to progress to the next milestone?
No, participants can progress through their milestones at a pace that suits them.
How do I see a specific participant's milestones?
To view a participant's progress towards completing a particular milestone, navigate to the Participants page on the left navigation bar. Individual participant progression is visible to you within their summary card under the Info section!
You can also use the filter 'Mentoring Milestone' to see a breakdown of participants on each milestone.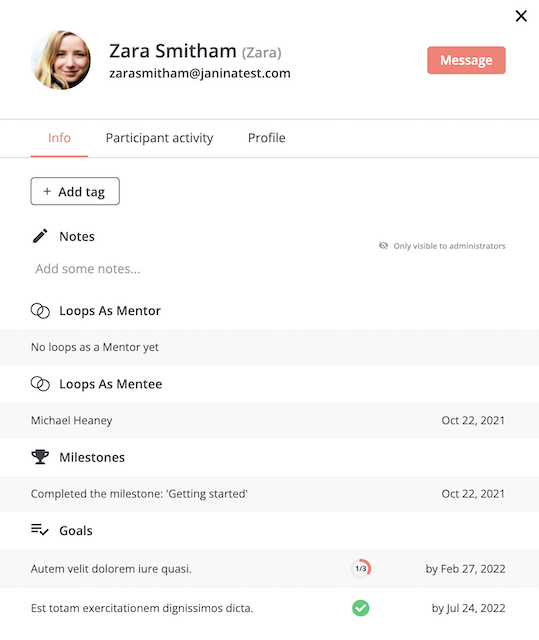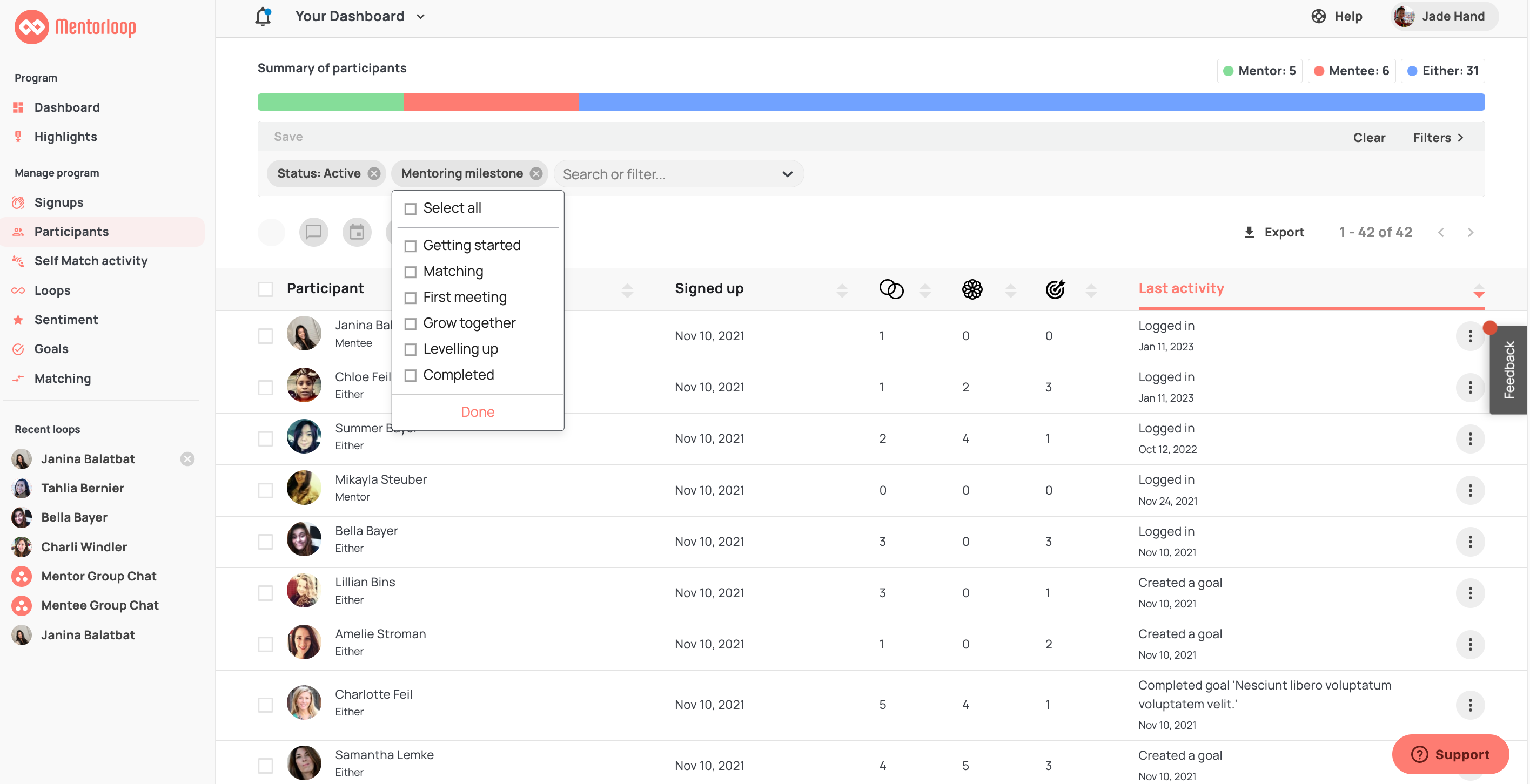 Do mentors and mentees get the same milestones?
All participants will see the same milestone stages, but the actions required to proceed through the milestones will differ depending on whether they are a mentor or a mentee.