Everything you need to know about the Program Coordinator Dashboard! Your dashboard has been reimagined to help you focus on the five key indicators of successful mentoring programs. It covers;
Participants
Matching
Milestones
Sentiment
Highlights
Understand the health of your mentoring program in real time, with actionable data charts and mentoring stories from real participants.
Participants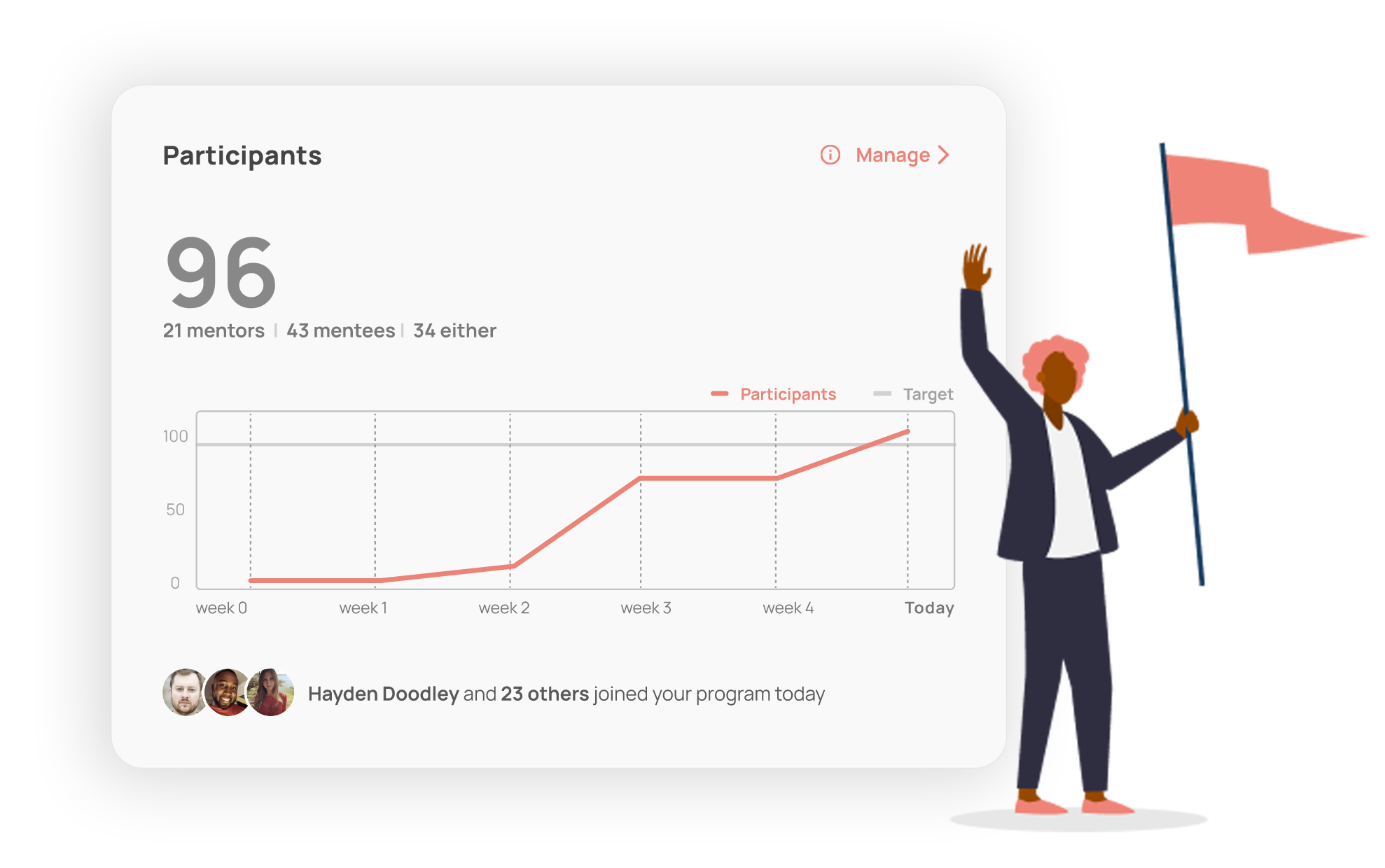 The participants chart shows the number of people - mentors, mentees and eithers (people who are open to both roles) - who have joined and are active in your program.
Matching
This chart shows the number of active program participants that have been matched with a mentoring partner in a 1-1 loop or matched into a group loop (if applicable for your program). The total number of matches shown in this chart will include both active and closed loops
Milestones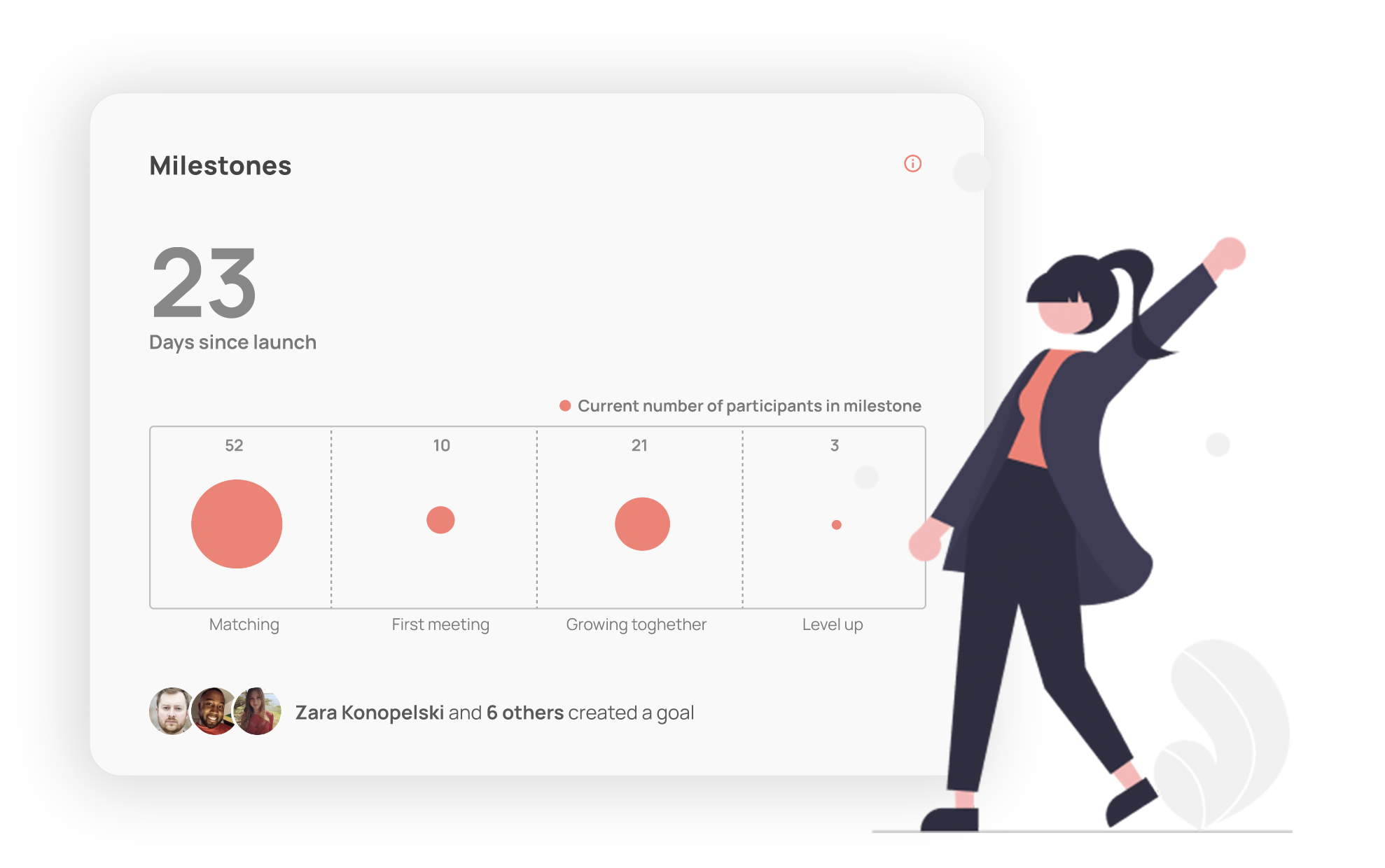 Milestones are a set of recommended tasks and actions that participants of the program can complete to get the most out of their mentoring experience. As they work their way through these actions, their progress will be reflected in this chart.
Sentiments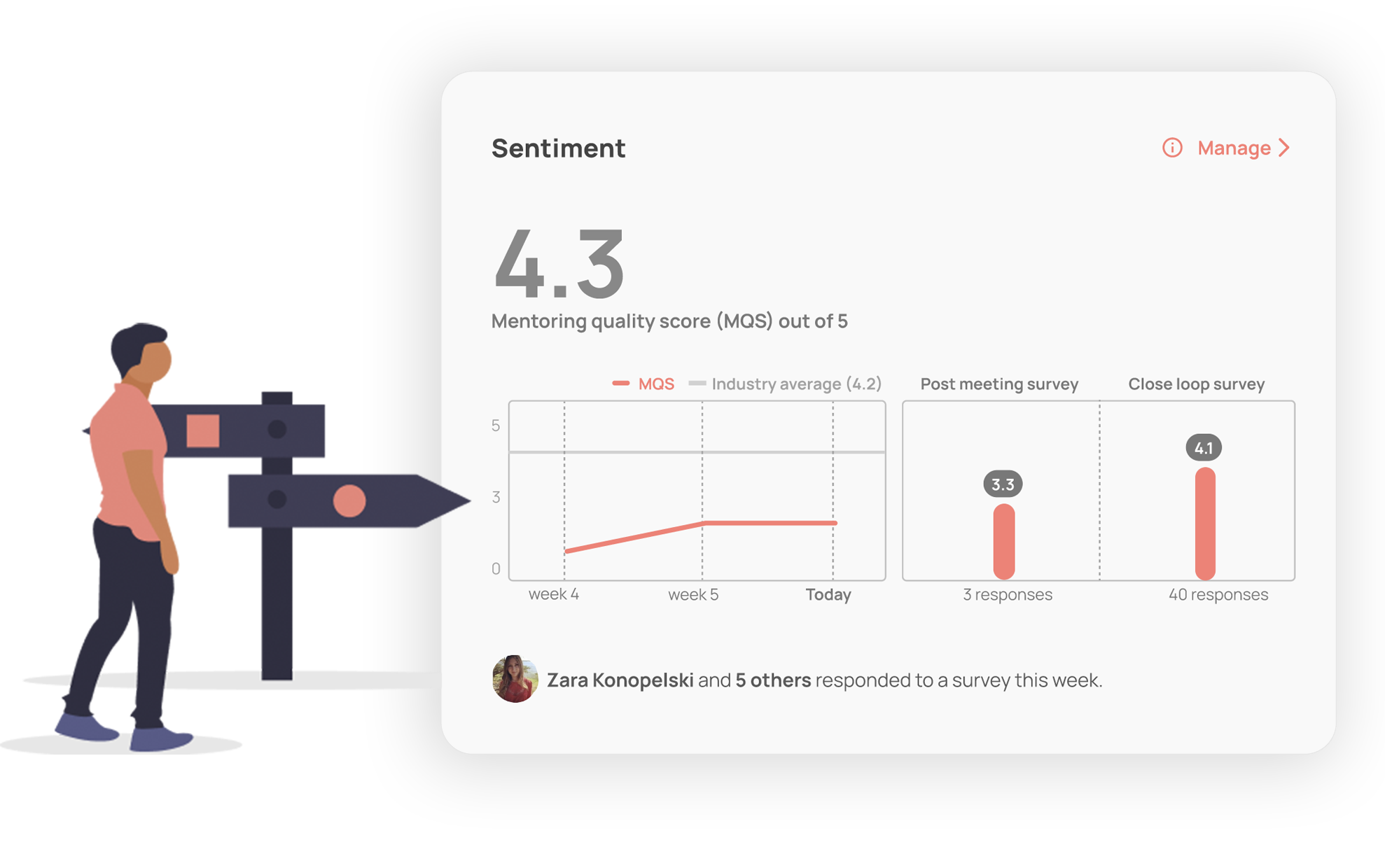 The sentiment chart includes data from MQS (Mentoring Quality Score), post-meeting and close loop surveys. It is determined by your participants relationship feedback and ratings over time, and represent the overall quality and success of your program. For more information on Sentiments, click here.
Highlights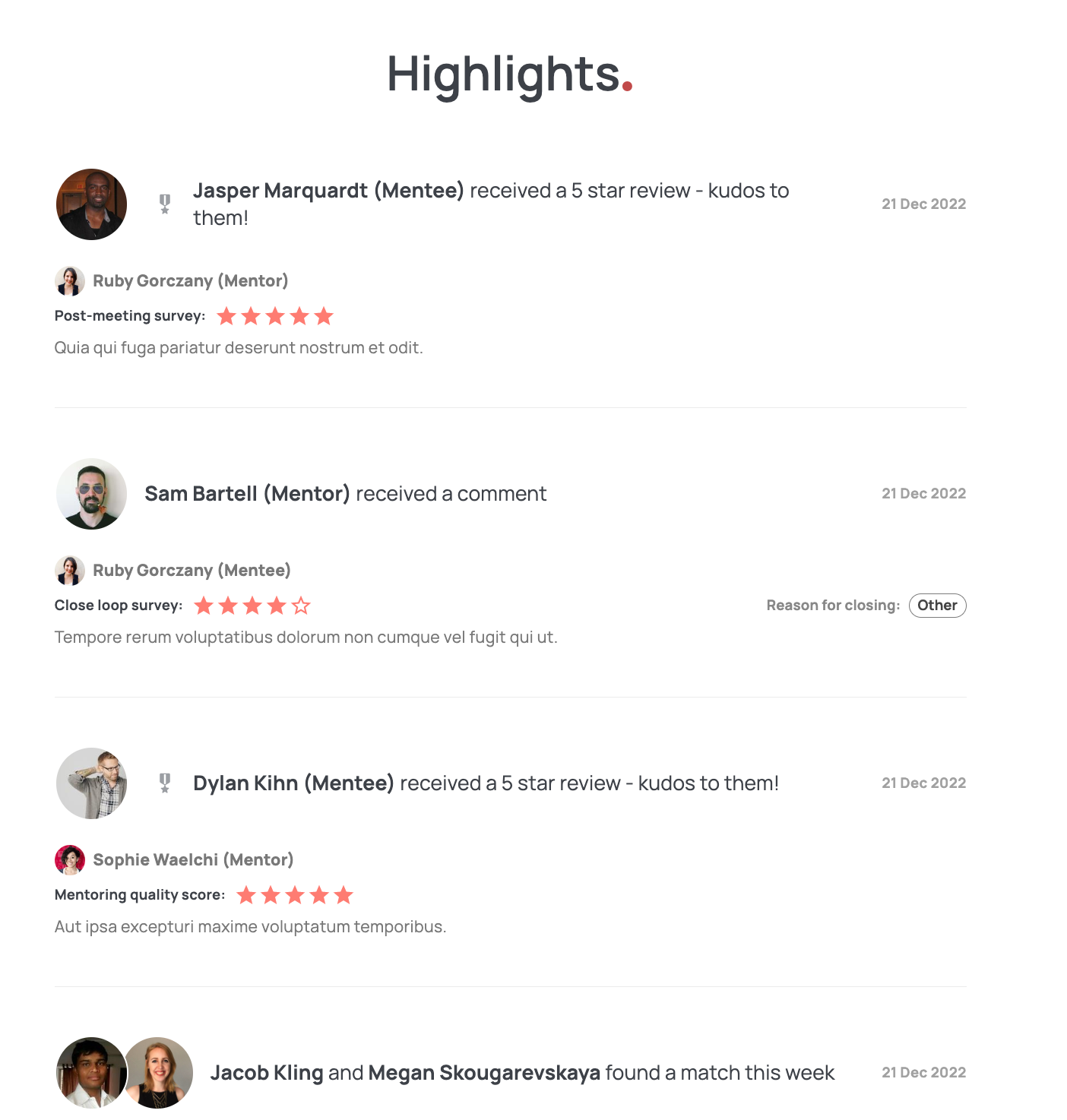 View all your mentoring activity in one simple feed! A new addition to the Program Coordinator dashboard enables you to read highlights of your mentoring program, from live data to participant activity. You can even use it as a starting point to create a report! To access the full highlights page, simply go to the left sidebar and select Highlights.
Export a PDF Report for your program!
Throughout the course of your mentoring program, the Program Coordinator Dashboard enables you to create and export reports and insights that showcase the quality and impact your program has had on your participants at any point in time.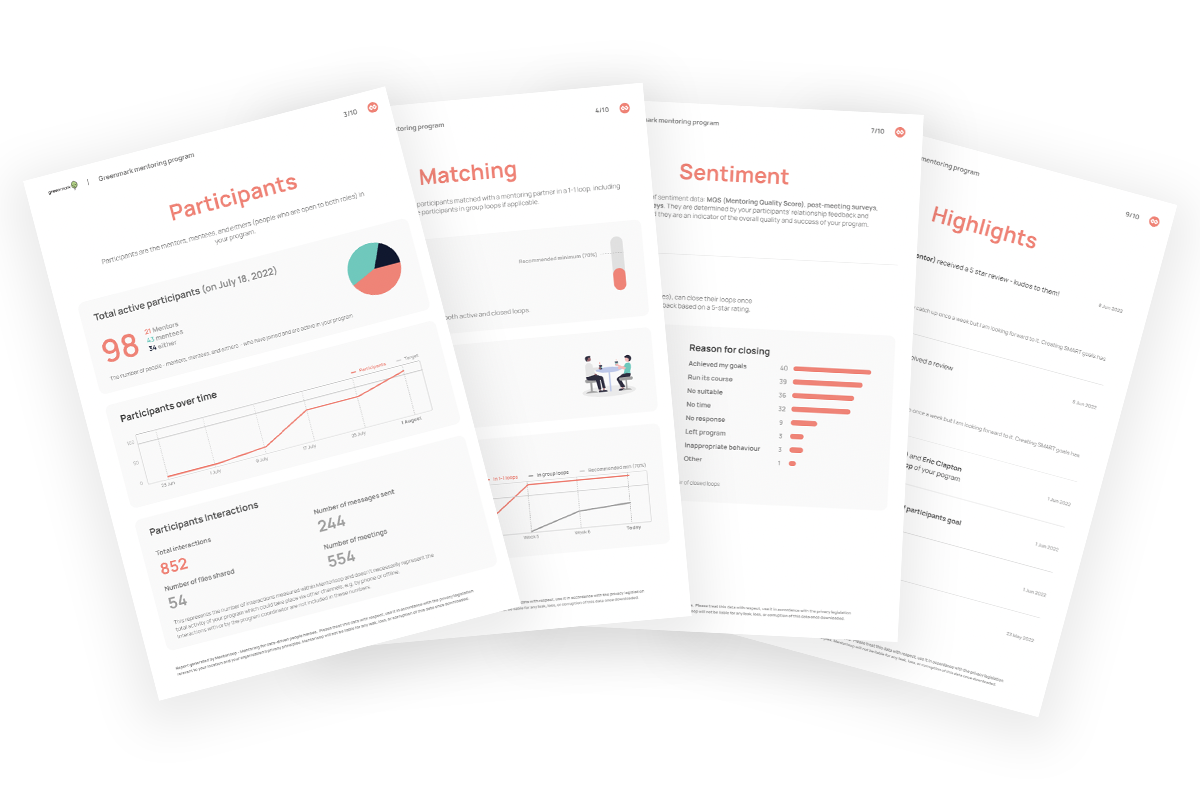 Monthly Digest Email
Once your program is live, at the start of each month Mentorloop will send you a Monthly Digest email that provides you with a summary of how your mentoring program is tracking along. The purpose of these emails are to provide you with additional functionality.
You can be sure that Mentorloop is providing you with the ability to understand where you can improve your program and how you might be able to enhance the experience for your participants!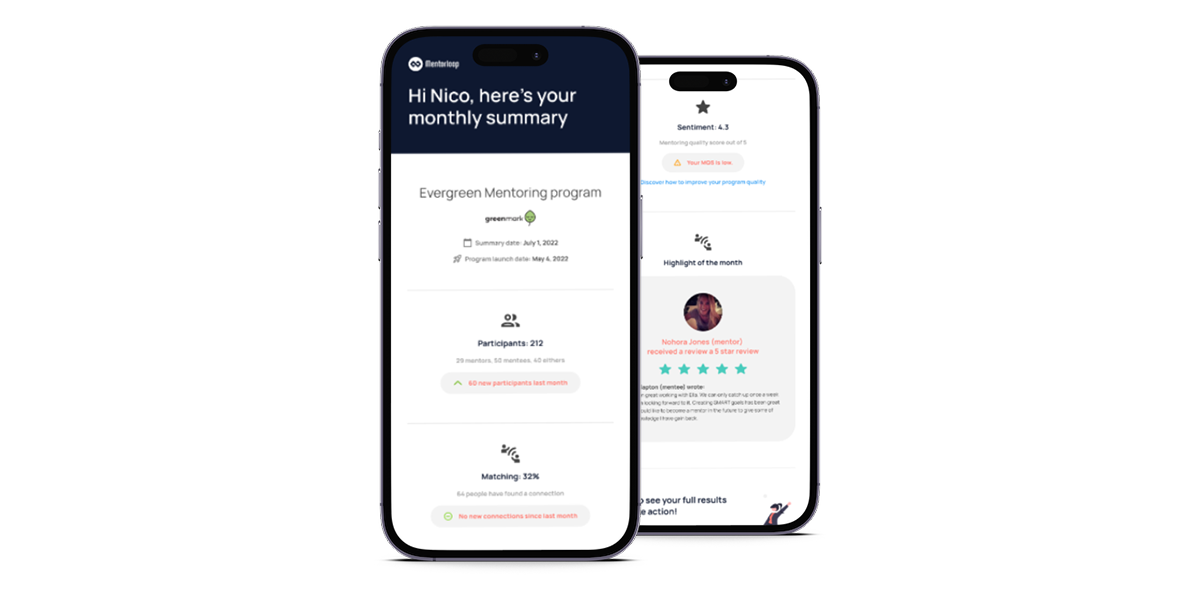 Have any questions regarding the Program Coordinator Dashboard?