This checklist will help to make sure that you haven't missed any key steps leading up to the launch of your mentoring program:
Prepare your program timeline
Although not a requirement, we do suggest taking some time to map out your program timeline before getting into the fun of actually launching, to ensure your time and efforts are spent efficiently and effectively. Here's an example timeline:
Week 1: prepare for launch (build your signup form, finalise key dates and messaging, liaise with the relevant stakeholders in your organisation)
Week 2-3: program promotion and recruitment and signups open. The right way to recruit participants will depend on many factors, including your goals, how you want to measure success, or even how much time you have to dedicate to running it. Check out this article for support on choosing your recruitment style.
Week 4: signups close and matching officially begins. Once again, choosing your matching style will depend on a few things. This article will help you decide, by explaining the different methods, how they differ and the pros and cons of each.
Week 5: first meetings take place. As a PC, we encourage you to monitor how your participants are getting on during these early stages, so you can identify anyone in need of support and give participants a nudge in the right direction
Beyond launch, your dashboard will help you keep on top of things by guiding you on where you may want to spend your time. However, you may also want to agree on some key dates in the future if your program demands so, for example for the closing of loops or for another promotion campaign.
If that all sounds a bit daunting or like a lot of work, don't worry, it doesn't have to be! Check out our tips on how to run a program in just 30 minutes per week, and how having clear timeline in place helps you avoid overwhelm by focusing on the task at hand.
Complete the program builder
Head to your dashboard and double check that you have completed all four steps to get your mentoring program set up and ready to go. Need some guidance? Check out our guide to Mentorloop Pro's program builder.
This feature is available on the Mentorloop Pro Package
You won't be able to launch and exit demo mode until all steps have been fully completed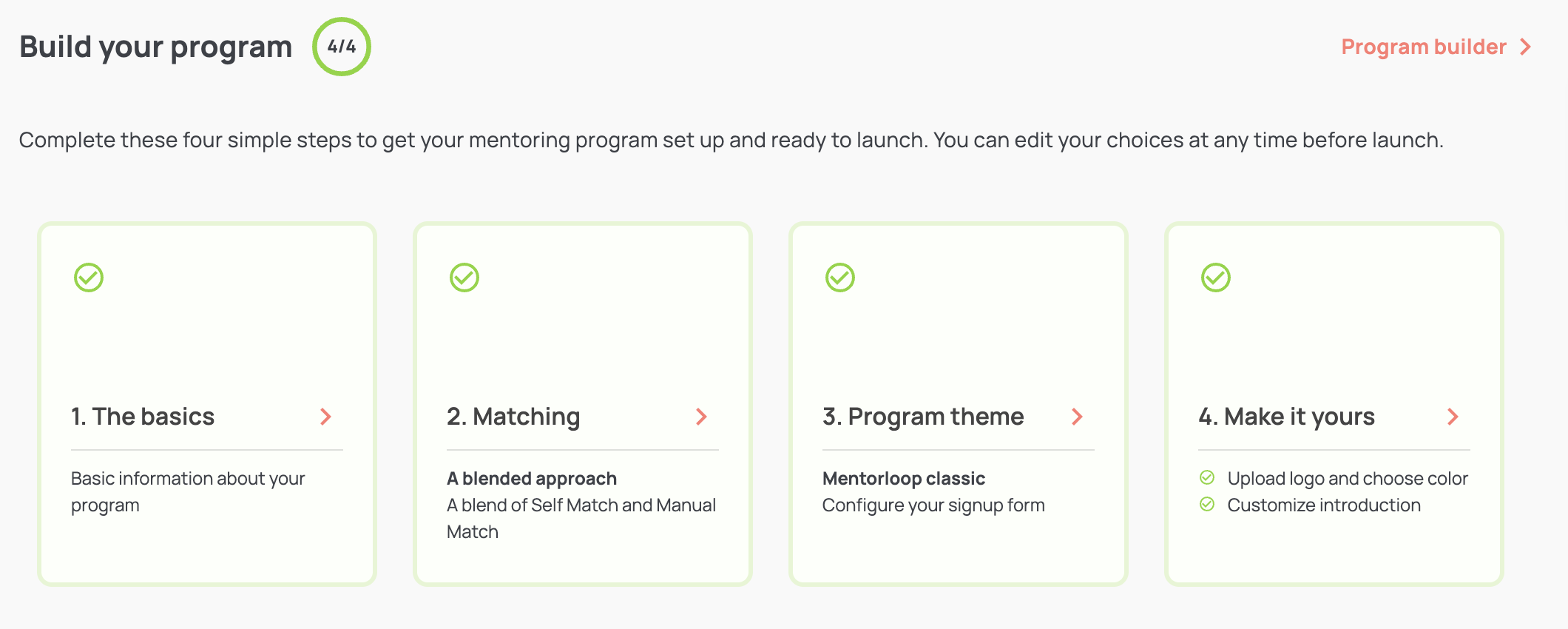 Preview the signup form in demo mode
Navigate to your program settings, to get a feel for what your potential participants will have to fill in as they sign up to your mentoring program. Now's the time to make any final edits before your program goes live.
Once launched, you won't be able to make any further changes to your form, so take the time to make sure you're happy with the final version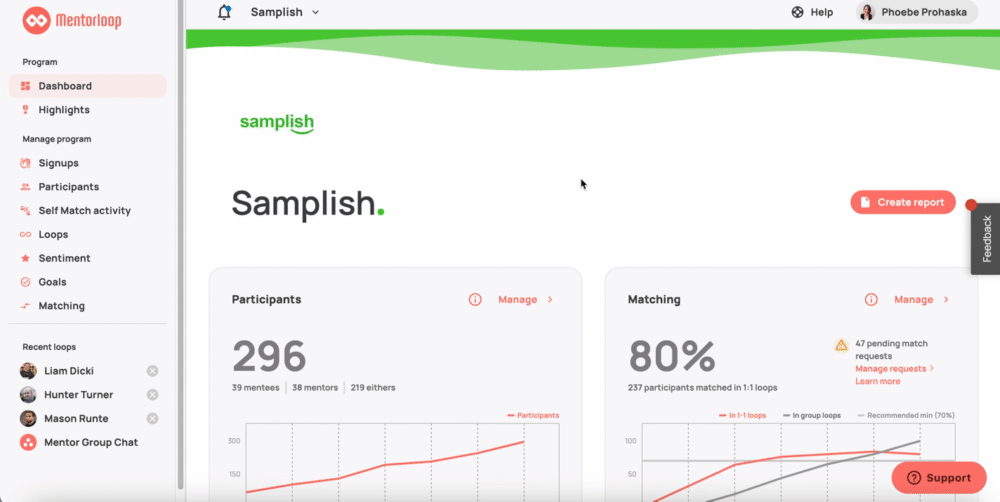 Update your program and personal settings
Find your personal settings from the top right hand side of the dashboard. From here, you can add a profile picture, integrate your calendar or update your notification preferences.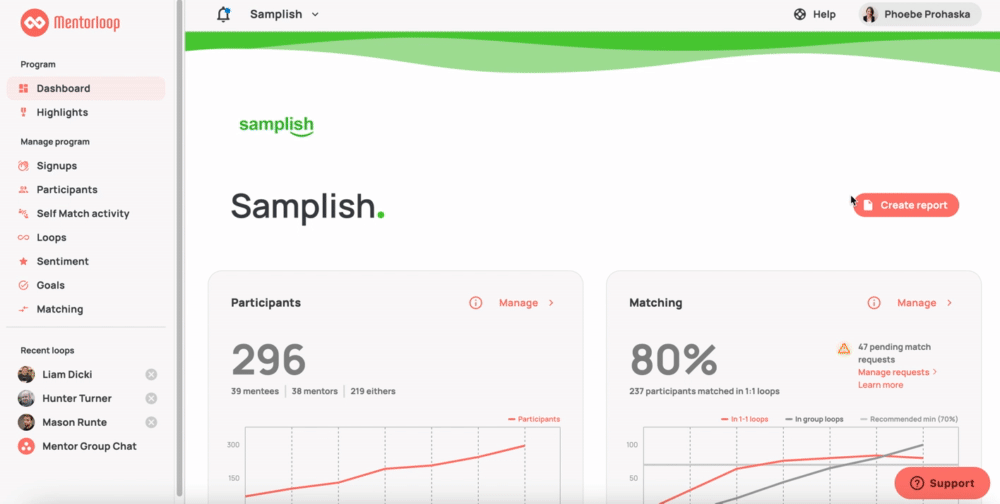 Your program settings can be found from the program dropdown menu in the top left corner of your dashboard. From here you can:
Limit the amount of match requests a participant can send at once (Self match programs only)
Update your signup form welcome message
Customise the program coordinator loop introduction and new match email notification message
Add a dashboard welcome message
Customise your recommended reading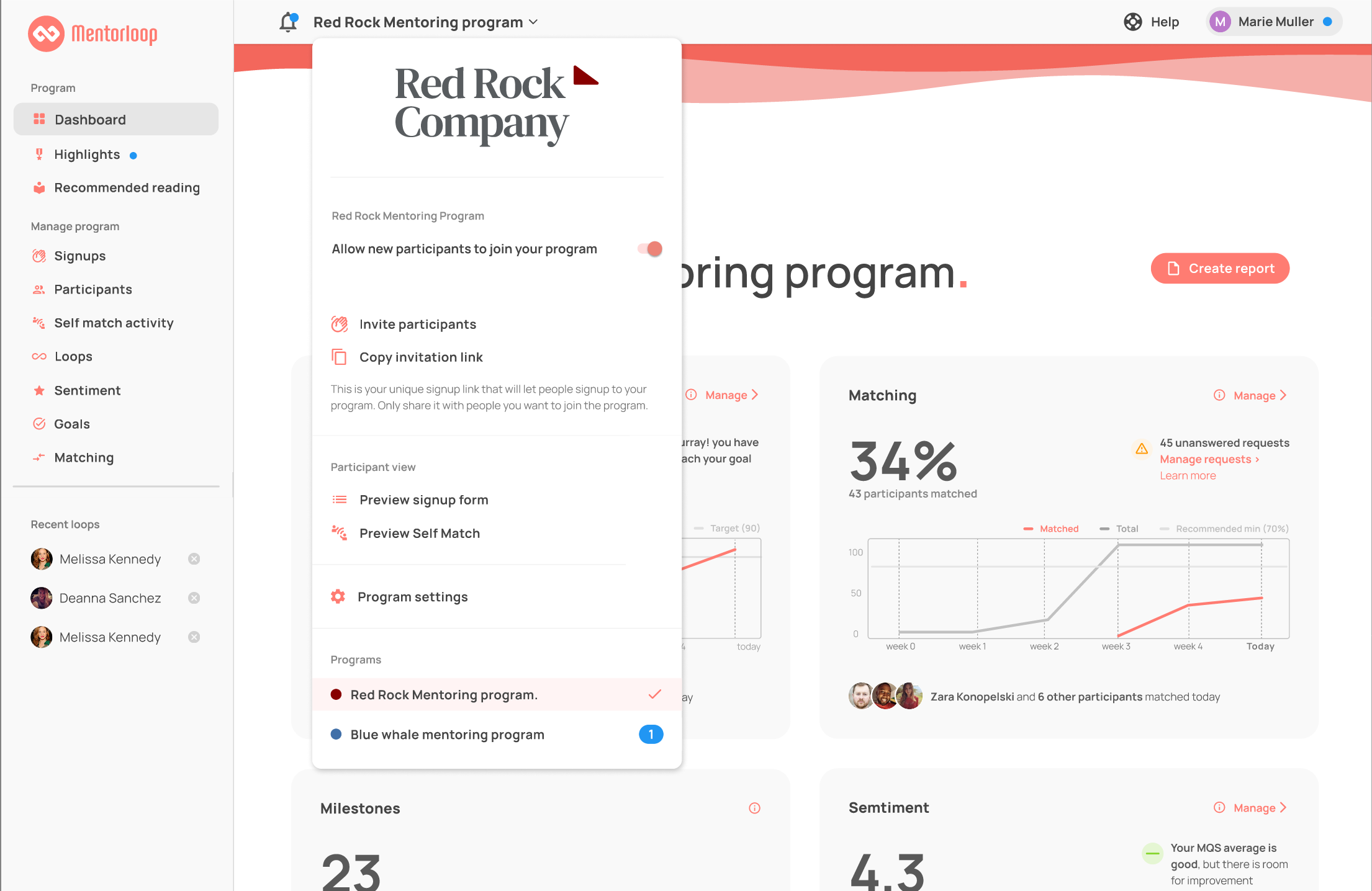 Explore in demo mode and get comfortable with Mentorloop
In demo mode, your program is populated with sample data, allowing you to explore Mentorloop as it if was live and practice using Mentorloop's features, such as:
Remember that once you've clicked "Launch program", all demo data will be removed and your program will be live
Curate your invite list
If the type of program you're running is for a specific group/cohort and isn't open to all, now would be good time to start collecting a list of people that you would want to invite, so that you can send them the registration link in bulk once launched.
Alternatively, if you're opening up your program for anyone to join, have a think about how you're going to recruit participants and promote your program.
Promote your program and prepare to launch with impact
Whether you want to recruit participants or simply generate some excitement for your participants about your mentoring program, we recommend putting together a simple plan for how you're going to promote your program.
Marketing your program may feel like a daunting task, but it doesn't have to be! Check out our Program Marketing and Recruitment Guide or video which will help you through every step of the process.
Once promotion is underway, get ready to launch your program with a bang by creating a buzz around the launch date and other milestones, such as matching. To help you do this, we've created a media kit which you can download here, which includes:
Slide deck for you to use to host a launch event: An introduction to Mentoring with Mentorloop
Web banner templates
Social tile templates
Email templates
Poster/Flyer templates