Mentorloop Pro empowers you to take ownership of setting up, launching, and growing a successful mentoring program.
The first step to success is Mentorloop's 4 step Program Builder, enabling you to get set up in as little as 10 minutes!
This guide will take you through everything you need to know to build your program and reassure you throughout the process - it really is as easy as it seems!
This feature is available on the Mentorloop Pro package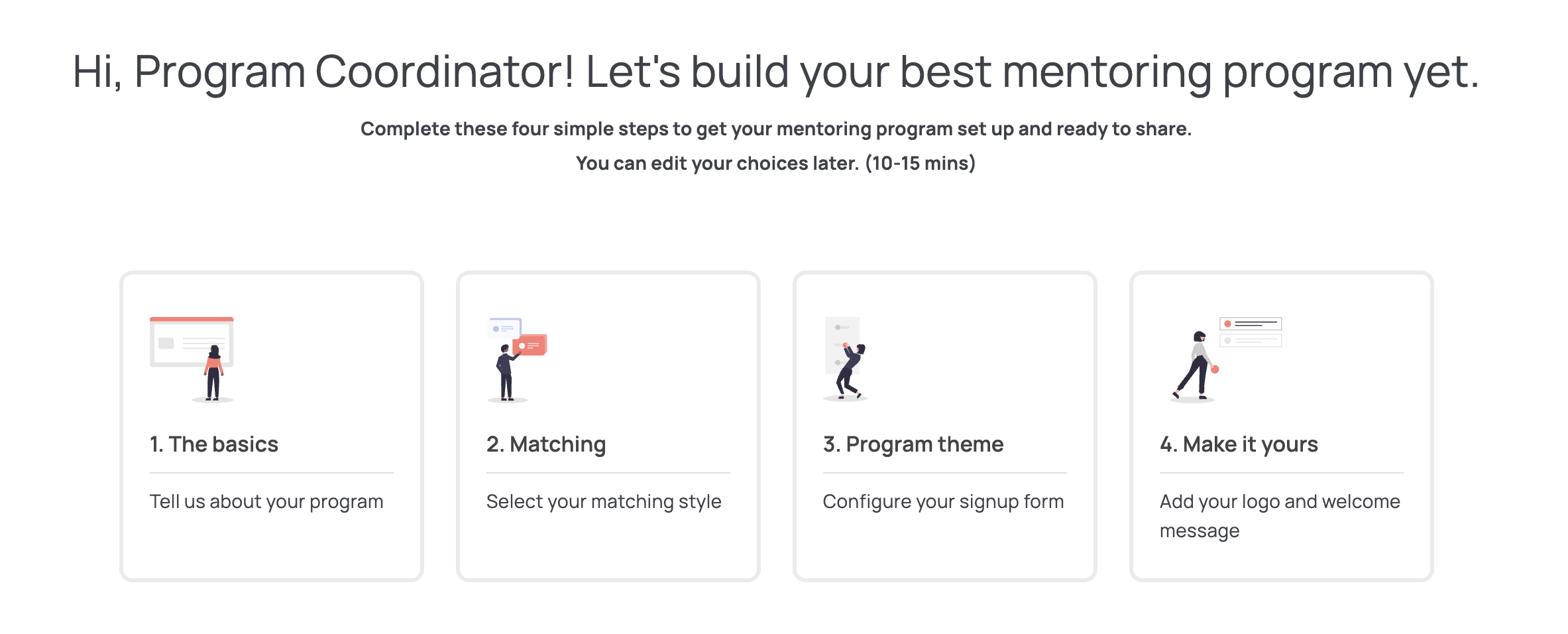 Step 1: The basics
The first stage is all about laying the foundations for your program and getting clear on your program objectives, including the number of participants you expect to join, estimated launch date and what you're hoping to get out of the program.
Don't worry if these details change over time, that's normal as your program gains momentum and grows. However, this is an important step, as it ensures your program's goals align with the overarching ones of your organisation, and will help you track your progress and measure the impact of your program.
Step 2: Select your matching style
There are three matching styles to choose from when using Mentorloop Pro:
Manual Match

Self Match

Blended
The style you choose will depend on your program's unique goals. If you're unsure as to which style would be the best fit for your program, check out this article on the different Matching styles on Mentorloop Pro. It explains how they differ, examples of where and when they work best, and the pros and cons of each.
Step 3: Choose your theme and configure the sign-up form
When designing your mentoring program, making decisions on what questions to ask in your sign-up form, or what matching rules to select can be incredibly difficult if you have to start from scratch. With Mentorloop Pro, it's easy to tailor your program to your goals with Program Themes:
Classic
Diversity Equity & Inclusion
Community
Each program theme generates a sign-up form and set of matching rules designed to orient your program towards your desired goals.
The sign-up form makes inviting and onboarding your mentors and mentees super easy. It collects basic information about your participants, their individual goals and other information to help your people get the most out of mentoring. It also informs the all important matching process.
As you build your form, keep an eye out for the customisations available to you, including opportunities to add your own answers specific to your organisation, make questions optional or obligatory, and even remove questions altogether if they're not relevant to your program.
Our deep dive into program themes will help you choose which one is the best fit for your program.
Step 4: Make it yours
The final step is all about customising the look and feel of your program. Here you can change your program name, colour and logo. You can also add a welcome message to your sign-up form, which is what participants will see when they first go to register for your program. This is a great place to introduce the purpose of the program and its benefits, set expectations or lay out any rules you have in place.
Once in demo mode, check out your program settings for even more ways to customise the messaging across your program, including the dashboard introduction message, which is another great place to set the tone of the program and lay down the expectations. Customising your Program Coordinator loop introduction message allows you to let the participants know who you are, how they can reach you as well as allowing you to set key dates, events and expectations throughout the program.
With the exception of Program Settings, all steps of the Program Builder cannot be edited once you've launched your program and are no longer in demo mode. So, we encourage you to take your time in reviewing all four steps in the Program Builder and ensure you're 100% happy with it before you click the launch button!
Explore your free demo
And there you have it - Program Builder complete! Now it's time to explore Mentorloop Pro in demo mode. In demo mode, you'll learn how Mentorloop sets your people and program up for success, and you can practice using some of the key tools with sample data in preparation for launch, including:
Launch your program
You can sign up, pay and launch Mentorloop Pro directly from your dashboard. This launch checklist will help to make sure that you haven't missed any key steps leading up to the launch of your mentoring program!
Then when your invite list is finalised and you're ready for people to start signing up, simply copy the link to your sign-up form and start sending out those invites!