Hello and welcome to Mentorloop Pro! We're thrilled to welcome you and to support your program to becoming the best it can be.
To help you get clear on next steps and what to expect over the first few weeks of Mentorloop, we've put together this step-by-step guide on your onboarding process, including the different onboarding milestones you'll go through, a centralised list of key training resources and where to go for support.
This article is relevant for Mentorloop Pro customers.
Onboarding milestones for Mentorloop Pro
Over the next few weeks, you'll be guided by a series of emails through the key milestones for Program Coordinators to set up and launch your program towards success. These milestones are: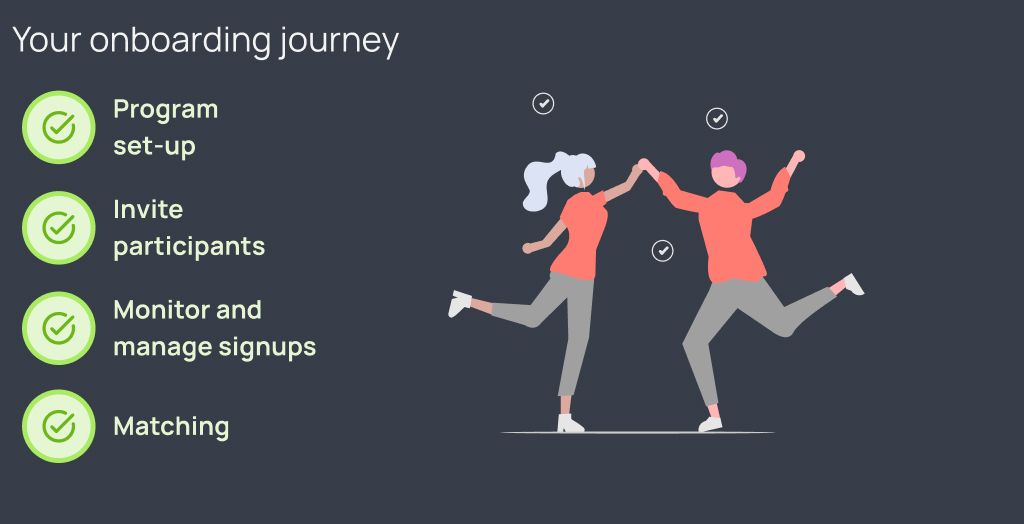 Training resources
As you move through the onboarding milestones, you'll be sent relevant training resources via emails like the one below to help you to move forward and get your program set up for success.

Keen to get ahead on the training? Below are some of they key training videos and articles that you'll be sent at the different milestones to help you during these early stages of running your program:
Program set-up:
Inviting Participants:
Monitor and manage signups:
Matching:
Post-onboarding:
Participant experience and training
We're often asked what training participants receive when they sign up to Mentorloop. We get it - you want to ensure your people feel supported and confident using Mentorloop.
Don't worry, we've got you covered! Mentorloop sends your participants email "nudges" that guide them through their own set of Mentoring Milestones, as teach them how to use Mentorloop.
Check out the resource list above, which will give you more insight into the participant experience.
The Mentorloop Community
Being a valued customer of Mentorloop means more than running a mentoring program. It means being part of something bigger - a community of like-minded individuals who are just as passionate about people and personal development as each other!
That's why we've created our Mentorloop Community on LinkedIn, which brings together our Program Coordinators and provides a safe space for us to all connect, share knowledge and experiences, and access exclusive content, thought-provoking discussions, and insider tips.
If you've not done so already, please request to join the group here.
Ongoing Mentorloop Pro support
No matter where you are in your program journey - whether you're completely new to Mentorloop, or are a longstanding Mentorloop Pro customer - we're committed to educating and supporting you and your program as best we can. That's why we're always adding to and improving our Help Hub and Academy, which are the homes to our support resources that guide you (and your participants) on how to use Mentorloop, overcome challenges and become the best program coordinator, mentor, or mentee you can be.
If you can't find what you're looking for, or are in need of further help, please contact the Mentorloop team here: support@mentorloop.com
Bitesized Training webinars
Beyond always accessible support online, we run monthly "bitesized" training webinars for Program Coordinators to help you save time managing your program, up-skill as a Program Coordinator and support your Participants better. Each training will cover a different topic that is highly focussed.
You can suggest topics or ask questions in advance via the LinkedIn community group, the chat widget, emailing customer support or in the chat during the webinar themselves.
You'll automatically be sent the monthly calendar invitations, so you never miss a session. Can't make it? No problem! Simply decline the invite and wait to receive a copy of the recording via email.